---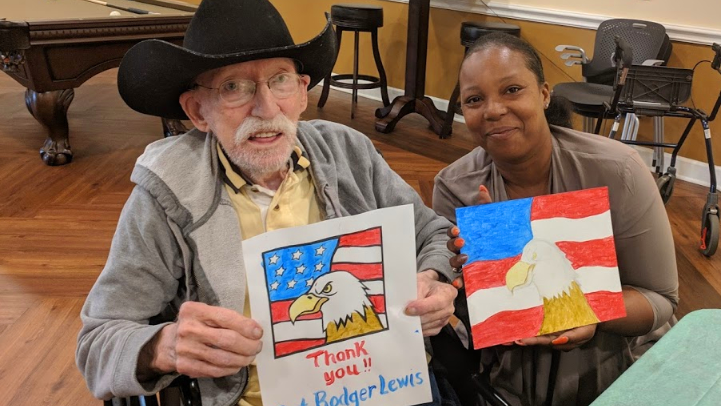 Are you a wartime veteran or the spouse of a wartime veteran?
If so, significant VA benefits may be available for Assisted Living or Memory Care. Fill out the form below or give us a call at
281.560.4311
to learn more.
BENEFIT TABLE
STATUS                                    MONTHLY BENEFIT AMOUNT
Surviving Spouse $1,245
Single Veteran $1,936
Married Veteran $2,295
Two Vets Married $3,071
Assisted Living Facilities for Veterans in the Houston Area
If you served in the Army, Navy, Air Force or any other branch of the military and are struggling with age-related health issues, you may be wondering if there are assisted living facilities available for veterans that are covered by VA benefits. Luckily, the answer to that question is a resounding yes! At the Ella Springs Senior Living Community, our knowledgeable staff can help you determine what benefits are available for veterans and their spouses needing Memory Care or Assisted Living.
Assisted Living for Veterans That's Covered by the VA
There are many facilities that are covered by the VA, including Ella Springs, and this means that most of the costs will be covered. See the Benefit Table on this page for the exact benefit amounts that you're eligible for as a single veteran, surviving spouse of a veteran, married veteran or two veterans who are married.
Choosing an Assisted Living Facility in Houston
If you are looking for assisted living facilities in the Houston area for yourself or a loved one, Ella Springs Assisted Living is likely to have exactly what you need. Not only can our facility care for individuals suffering from physical health issues, but we can also be beneficial to people who are suffering from cognitive decline. Here's what you need to know:
Our facilities offer apartments with a spacious floor plan and comfortable furniture.

We offer treatment for mental and physical health problems caused by aging, including memory loss. We're here to help ensure that your older loved one has the care that they need.
Assisted living facilities are available that will offer your loved one a considerable amount of independence in his or her older years. We offer many services including skilled nursing, memory care for those dealing with cognitive decline, and assisted living for those who need a little help with the tasks of daily living. Our goal is to provide care that can protect the health and safety of older individuals who are impaired by age-related issues.
Our VA-covered facility is designed to be exceptionally comfortable, offer the best care available, and accommodate residents with a wide range of medical needs. If you or a loved one is a veteran or a surviving spouse of a veteran, you may be eligible for VA coverage and a Department of Defense pension. Contact us to find out more about our assisted living facilities and what your VA benefits cover.